Man Up Campaign Participates and Supports 1325 envisioning a living 1325
October 2015 marked the fifteenth anniversary of the unanimous adoption of UNSCR 1325 on Women, Peace, and Security along with six follow-up resolutions, yet we must effectively move from commitment to implementation. We have invited civil society and distinguished guests to come together for the Fifteenth Anniversary of UNSCR 1325 to commemorate achievements and to strategize on strengthening and mobilizing women and men for effective implementation of the Women, Peace, and Security agenda.
Man Up Campaign supports UNSCR 1325 there are many countries which have created Peace and Security. Here is a list of nations maintained by iKnow Politics an International Knowlege of Women in Politics http://iknowpolitics.org/en/knowledge-library/website-database/list-national-action-plans-implementation-unscr-1325 The understanding of the treaty its implementation is growing. Asha Hans has been promoting the phrase "Local Living 1325" and that if the nation does not have the will to implement them the people should make efforts to create them on a local basis. Also the word security immediately often means one of the most critical parts of this resolution is women's empowerment in being represented and making policy it is critical. So often peace and security meaning mains of war and law enforcement actions instead of the Culture of Peace.
The conference highlighted this idea in many ways. Man Up Campaign was living 1325s plans and women empowerment in many of the panels. Man Up Campaign new Executive Director Fred Sullivan was on the panel "Conversations with Men" talking about women's empowerment with non-profit and business leaders. The panel the moderated by Jessica Robinson of Impact Leadership 21, FSUN. The event photographed by Man Up Campaign supporter Maggie Hallahan and her company MHPV. The Man Up Campaign will continue to actively educate nations and communities large and small to implement living 1325s and helping rid our world of gender-based violence in preventive and active and supported by policies with equal representation of women, awareness, and action in each community.
Man Up Campaign ED Fred Sullivan Selected in 30 Champions for 30 Years
The Metropolitan New York Chapter of the U.S. National Committee for UN Women celebrates its 30th Anniversary with a festive evening Wednesday, October 18th, 2017, 6:00 to 9:00 pm at the Harmonie Club in New York City. The evening will honor leaders in women's empowerment and gender equality. Proceeds will support UN Women programs in over 100 countries.
---
The metropolitan new york chapter is launching its champions of change campaign to stand up for women worldwide and will introduce nine champions of change at the 30th-anniversary celebration. These champions are advocates for women's empowerment and committed to changing women's lives through their professional and personal work. Selecting a group with diverse backgrounds and ages who are advocates and champions for the empowerment of women and girls and who have demonstrated their commitment in the greater new york area or on the global stage. Champions of change will be featured in our publications and social media and serve as the chapter's ambassadors for women's empowerment and gender equality.
Fred thanks, all of his colleges and partners for their help in the past and in advance to help fulfill his determination and mutual goals to is to continue work on with activities by Man Up Campaign and Partners to create inclusiveness, equality, and opportunity as a basis for ending gender-based violence.:
16 Days of Activism Events Nov. 25- Dec 25 in NYC and around the world.
Continuing to work to pass a gender-equality bill for equality in budgeting, employment, and programs in New York City with NYC4CEDAW.
South Asian Youth Leaders Summit in 2018 in Pakistan to rally progress on the 17 Men & Women Youth determined to take on the Real Challenge of realizing the 17 SDGs - understanding the importance, making them accessible and actionable in their community using gender lens SDG5.
Work in the UN Inter-Agency Work Group on Youth and Gender on the Youth CSW forum part of the Conference on the Status of Women at the UN and Regionally. Bringing and engaging more youth Champions of Change into the movement.
We thank new york advertising agency anomaly, for its leadership and creativity in designing this campaign, as well as photographer Delphine Diallo, known for her special style that combines artistry with activism, for photographing the initial group of champions of change.
It's Genius Week Join us for Man Up Campaign's Social Venture Start-Up Workshop. The ventures theme will be creating equality SDG #5. We with the Innovation Filter Model of a powerful tool used at Venture Acceleration. We will create a Success Equation Worksheet to pitch funding. A genius reference Robin Chase's book Peers Inc: How People and Platforms Are Inventing the Collaborative Economy and Reinventing Capitalism.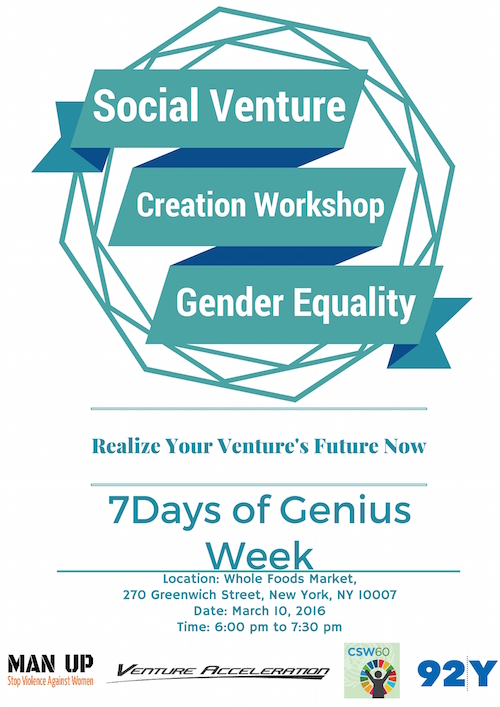 The Man Up Campaign, along with Oxford Epidemiology Services and ResultsinHealth have teamed up to document aspirations and dreams of fathers for their daughters from countries around the world. The objectives of this study are to:
1. To what extent are father's aspirations for their daughters in line with gender equality?
2. What are the key themes and patterns?
3. Do fathers' aspirations differ by socioeconomic status or religion?
4. What are key ways to engage fathers in the path on gender equality that build on their aspirations and dreams for their daughters?
Our MUC Youth Delegate Leader James Byarugaba Program Director Youth Alive Uganda!
As part of the 16 Days of Activism against Gender-Based Violence Campaign, Embassy Kampala in Uganda hosted an event for a group of YALI Network members who shared a conversation with Jimmie Briggs, a freelance journalist and founder of the Man Up Campaign.
Man Up Campaign Youth and leacership help plan and attend the first ever Youth Forum at the Commission on the Status of Women (CSW) On March 11 and 12, 2016, the held in New York. Organized by UN Women, YWCA, the UN Inter-agency Network on Youth Development's Working Group on Youth and Gender Equality and partners.
The two-day forum gathered over 300 participants from all over the world who are active and engaged in the implementation of the 2030 Sustainable Development Agenda and specifically in achieving gender equality. The key outcome of the two-day meeting was the development of a set of "Youth-Agreed Conclusions" for the implementation of the 2030 Agenda. At the end of the conference, the Conclusions were presented to the Chair of the CSW60, Brazilian Ambassador to the United Nation in New York H.E. Antonio de Aguiar Patriota. For the first time ever, a youth representative also made a statement at the opening session of CSW60, on 14 March, highlighting the role of youth in achieving the 2030 Agenda.
Goal 5: Achieve gender equality and empower all women and girls
Man Up Campaign believes that achieving gender equality is the foundation for ending gender-based violence and achieving all of the SDGs. We will think, speak and act on achieving gender equality, inclusiveness and opportunity for all genders. Begin your champion's journey — join youth around the world in achieving the goals!

SDGs - UN website
End all forms of discrimination against all women and girls everywhere.

Eliminate all forms of violence against all women and girls in the public and private spheres, including trafficking and sexual and other types of exploitation
Eliminate all harmful practices, such as child, early and forced marriage and female genital mutilation
Recognize and value unpaid care and domestic work through the provision of public services, infrastructure and social protection policies and the promotion of shared responsibility within the household and the family as nationally appropriate
Ensure women's full and effective participation and equal opportunities for leadership at all levels of decision-making in political, economic and public life
Ensure universal access to sexual and reproductive health and reproductive rights as agreed in accordance with the Program of Action of the International Conference on Population and Development and the Beijing Platform for Action and the outcome documents of their review conferences
Undertake reforms to give women equal rights to economic resources, as well as access to ownership and control over land and other forms of property, financial services, inheritance and natural resources, in accordance with national laws
Enhance the use of enabling technology, in particular, information and communications technology, to promote the empowerment of women
Adopt and strengthen sound policies and enforceable legislation for the promotion of gender equality and the empowerment of all women and girls at all levels
From Harlem to the United Nations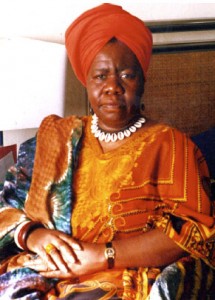 Queen Mother Dr. Delois Blakely, Community Mayor of Harlem and Goodwill Ambassador to Africa along with the Man Up Campaign invited the world to celebrate International Women's Day in a high-tech club atmosphere and help kick off the United Nations' historic Beijing+20 Conference in a memorable way!
This International Women's Day was especially noteworthy, as it not only marked the twentieth anniversary of the seminal 1995 Beijing Conference on Women, and the 59th Commission on the Status of Women at the U.N., but also was the largest march for gender equality in America since 1978, and saw Man Up's announcement of the S.M.A.R.T. framework for life-cycle gender education, by Man Up Campaign.
---
Man Up Campaign was thrilled to host Zero Degrees of Separation, an event that emphasized the interconnectedness, or "zero degrees of separation," among all human beings. It offered a unique convergence of place and opportunity, showcasing the work of Man Up delegates from Africa and South Asia in a spirit of celebration and inspiration. The festivities were held on Sunday, March 8 (International Women's Day), at MIST Harlem, an innovative cultural and educational venue in one of New York City's most historically significant areas.
Among the evening's highlights for the several hundred attendees, included dignitaries from around the world and community residents: 
Queen Mother Dr. Delois Blakely, founder and president of the New Future Foundation discussed the journey from the 1995 Beijing Women's Conference 20 years ago to today.

We heard from noted feminist organizer Shelby Knox, first introduced to most of the activist community via the award-winning documentary The Education of Shelby Knox, and currently Director of Organizing, Women's Rights for Change.org.

We also heard from popular actor and musician Penn Badgley, best-known to most audiences for his work in the television series Gossip Girl, but who also appears in the current NBC series The Slap and in the upcoming feature film Anarchy.

Attendees had the opportunity to screen 2015 Sundance Film Festival selection The Mask You Live In.

The music of Dylan Golden, Pax Humana, and DJ ĀGARD got everyone on their feet and dancing!

Man Up Campaign was joined by Stony Brook University's Center for the Study of Men and Masculinity and Lions Club International to announce our new gender-focused, life-cycle engagement initiative targeting schoolchildren in India based on the "Lions Quest" social-emotional wellness curriculum. With your help we intend to extend the program globally to become the largest gender education program in the world.
How to conduct a one-year marketing campaign for greater awareness of Sexual and Gender-Based Violence.
We're pleased, and proud, to share with you the fruits of a lot of hard work by folks on both sides of the Atlantic Ocean. It's a manual that details how to run a one-year campaign in Great Lakes Region of central Africa to raise awareness of violence against women and girls.
The project was spearheaded by Jimmie, Emily Fischer, and Elizabeth Mayer here in the U.S., and researched and piloted by a number of activists in Rwanda, Uganda, and the Democratic Republic of Congo. It was funded through a grant from the World Bank, to whom we say thank you very much!
Are You Man Enough? Manual Stop Sexual and Gender Based Violence.
March 5-8, 2015, just before CSW 59 at the UN marking 20 years since World Conference on Women in Beijing, China
Mark your calendars! The Man Up Campaign, along with the Center for Men and Masculinities at Stony Book University, the American Men's Studies Association, and the MenEngage Network, is sponsoring the International Conference on Masculinities: Engaging Men and Boys for Gender Equality!
The conference will run from March 5-8, 2015, in New York City and takes place just before the United Nations' annual two-week meeting of the Committee on the Status of Women (CSW). This particular gathering of the CSW marks the twentieth year since the landmark Fourth World Conference on Women in Beijing, China, in 1995. Thus, this year's CSW meeting, sometimes referred to as "Beijing+20," takes on special significance.
In late October, Jimmie and Fred spoke to the young men of the Expanded Success Initiative, a project of the New York City mayor's office which equips Black and Latino high school boys for college and career success. Also speaking was another friend of Man Up, Jason Higgins, who serves as the program director for the New York Martin Luther King Center for Non-Violence.
Are You In The House West Coast!
We'd like to introduce you to the newest member of our team, Eugene Hung! New York-born and Texas-bred, he's been a husband for thirteen years and a father of two daughters, ages five and eight. He's also a credentialed social studies and math teacher, a licensed minister, a writer for Asiance Magazine, and an activist with experience advocating for women and girls, people of color, homeless folks, and the environment.