In another part of the world; Uganda, we have the local efforts of our esteemed member James Byarugaba who through his Organization Youth Alive Uganda has supported education by responsibly using technological and media resources, conducting cultural-educational videos, distributing information and educational materials, radio campaigns to raise awareness about COVID-19, offering a learning space and networking on a grass-root level to reduce and prevent gender-based violence.
On the other hand "Youth Alive Uganda also supported staff, peer educators, and health workers with PPEs including; masks, sanitizers, and gloves. Youth Alive Uganda supported the district COVID task forces with a cash contribution equivalent of 280 dollars per district to support the procurement of PPEs for health workers" ((Byaruqaba. J., 2020).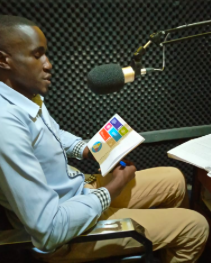 Using the radio for education on COVID-19.
Not forget to mention the important collaboration on food &, sanitary support, donations, access, and delivery to sexual reproductive health services including HIV ART, psycho-social support, Gender-Based Violence information, and counseling in homes and delivery of proper medicine in Bugiri District to teenage mothers and elderly. Sharing and caring for the elderly, and the teenage mothers during COVID-19 is a must for rebuilding our society.
Our leader James Byarugaba has made sure that even with the lockdown affecting the transportation of patients to hospitals in critical situations the medicine and services are getting to the people in need.