Our Delegates & Their Projects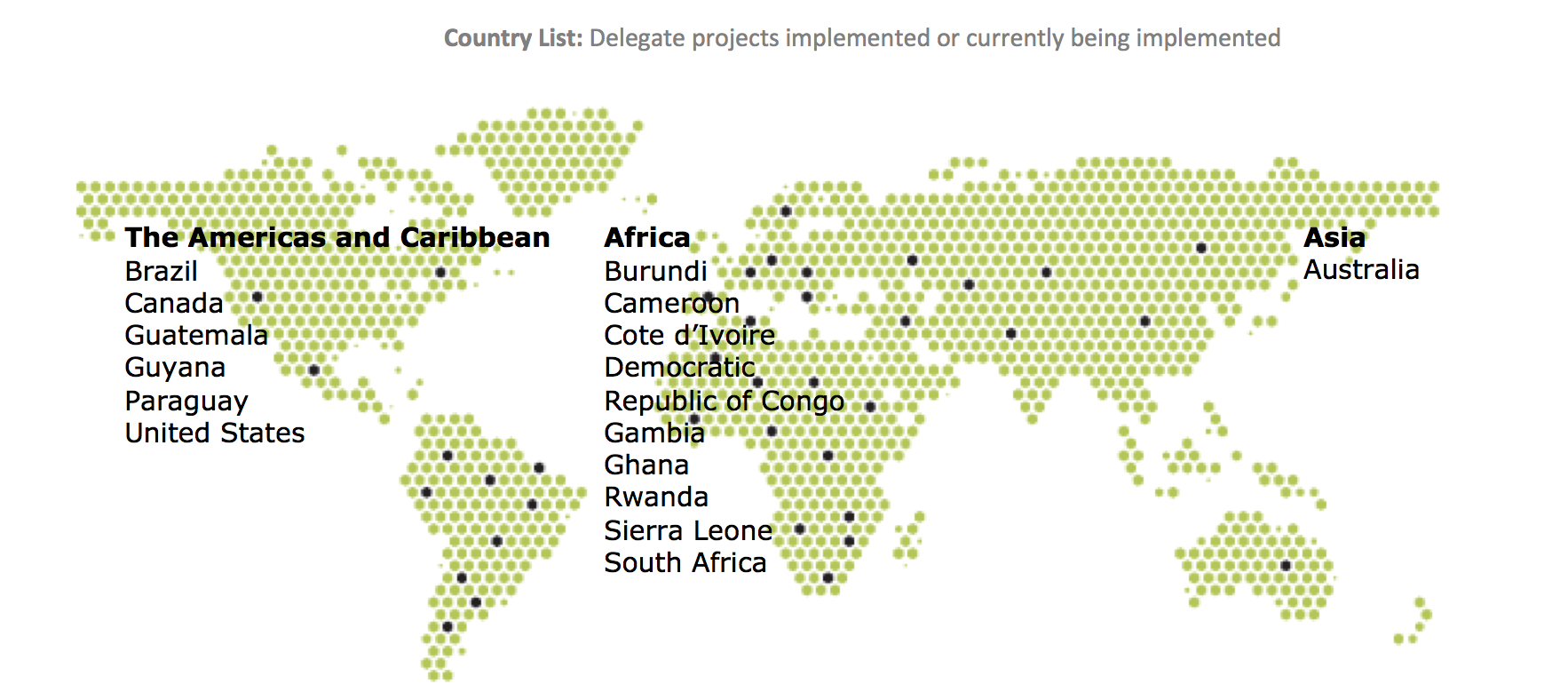 Man UP Campaign Delegate Projects at a Glance (highlights of 13 projects)
A few of the 2010 YOunG Leaders Summit DElegates projects:
Country

Project Location

Project focus & Issues addressed

Project Brief

1. Democratic Republic of Congo (DRC)

Goma and Bukavu

- Prevention of sexual and gender-based violence of girls in schools;




- Gender and violence against women (VAW) sensitisation for women and girls

Project: Ensuring the Education of Girls free from Sexual and Gender-Based Violence




Man Up delegates in Bukavu and Goma see the need to engage the next generation in the fight to prevent sexual and gender-based violence. The Man Up Congo teams feel an increased level of violence in the DRC has become normalized and is endangering Congolese youth, in particular Congolese girls. They are particularly concerned that this violence often occurs in schools, the very environment where youth are mean to flourish and become the country's future leaders. The teams feel that engaging students, teachers, and school administrators, will help break a cycle of violence and ensure girls receive comprehensive education free from violence.




In Goma, beginning in September, 2012, the following activities are planned:




- Assessment of needs in several schools and a university

- Develop training programs based on assessed needs

- Develop sensitization materials for awareness raising

- Train 50 future trainers in gender sensitization (student, teacher and administration focal points)

- Coordinate 10 conferences and debates addressing violence against women in schools

- Coordinate 2 theatre projects to address gender sensitivity

- Coordinate 10 sporting events with themes on VAW

- Conduct ongoing radio and media spots to raise public awareness on the issue and project




* The Goma team intends to affect 125 directly and thousands of students indirectly




In Bukavu, beginning in September, 2012, the following activities are planned:




- Conduct successive workshops in two schools (every two months ) on combating violence against young girls

- Coordinate monthly conferences in different schools on Gender-Based Violence

- Conduct 3 human rights training seminars for local police authorities

- Coordinate 3 field trips for students to participate in intra-school discussions on GBV




* The Bukavu team will target 150 girl students specifically through school trainings. Some 200 pupils (150 girls and 50 boys will be directly impacted by the trainings.)

2. Uganda

Kampala, Kamuli district

Awareness raising on Domestic Violence through sports, music and drama

Project: Reducing Cases of Domestic Violence in Kamuli district

The goal of this project is to reduce cases of domestic violence among 10,000 people through increasing awareness on the causes and effects in Kamuli district by December 2013

Main objectives include:
1. Increasing local leaders participation and involvement in stopping violence against women;
2. Increasing awareness on the causes and effects of domestic violence as well as knowledge on women rights;
3. Reducing cases of domestic violence in families as well as violence among teens dating;
4. Enhancing community partnerships and collaborations for collective efforts in stopping violence against women; and
5. Improving referral system for victims of violence against women

3. Ghana

Atwima Kwanwoma District of Ashanti Region

Self awareness and economic empowerment for young mothers

Project: Young Mothers Empowerment Program

This project aims to empower young single mothers to care for themselves and their children and to enrol their children back into school to help curb the cycle of abuse.

Young mothers enrolled in the Young Mothers Empowerment Program will be trained and supported to: generate their own income through small businesses, complete their education, have healthy and non-violent relationships, and enrol their children back into school and away from economic activities (child labour).
4. Burundi

North Burundi

Violence against women awareness/ sensitisation

Project: School Clubs Project

In collaboration with primary and secondary school teachers this project set up a number of school clubs to raise awareness on violence against women. Pupils are engaged using arts and sports facilitated by ICIRORE C'AMAHORO staff [including Man Up delegates] and teachers.




A total of 12,000 pupils were involved in North Burundi and 23 clubs established. The plan is to expand this program, the setting up of youth clubs in schools to address violence against women, across Burundi by 2014.

5. Rwanda

Gahunga Village, Burera District

Economic empowerment of women and families (income generation) and GBV awareness

Project: Goat Project

The project aims to to buy goats for 184 of the poorest families identified in Gahunga village. With the goats they will make manure to use in their lands, increase harvest and address food insecurity as a first priority, buy health insurance and do other development project like bringing clean water in their village.

This community is meet with the challenges of poor harvest due to the infertile and non productive farm land; food security is their biggest concern. Families in this community also face other challenges like family conflict where most of the time women are victims. There is a need for gender awareness, gender-based violence and economic empowerment sessions.

6. Cote d'Ivorie

National

Gender equality and violence against women awareness TV program

Project: Television program for national discussion on violence against women

The intention of this project is to have a series of TV Programs to facilitate public discussions and solutions around the issue of violence against women from different points of view (sociological, religious, Law, etc). A schedule of two broadcasting per month during a period of a year is planned.
7. Sierra Leone

Makeni, Sierra Leone

Economic empowerment and leadership training for women

Project: Capacity building and Sustainable Livelihood

Project was implemented to restore hope, empower and give young women entrepreneurship skills; especially women who are divorcees, widows and victims of forced abuse (marriages and, teenage mothers, etc.).

The project acted to bridge the gap for abused women taking up entrepreneurship and leadership roles in their communities. Some 80 youth were trained (70 female, 10 male) and some participants were provided with entrepreneurial start-up kits - due to lack of funds not everyone received start-up kits.

8. Gambia

Dongoroba Village

Economic Empowerment of women

Project: Women's Initiative for Education and Empowerment (WIFE)

WIFE is a community-led initiative that support women through Gardening management and entrepreneurship for income generation. The project aims to reduce the poverty level of women, which is considered one of the major obstacles to women advancement.

The project has trained 310 women in gardening management, such garden demarcation and compost making, the women also received entrepreneurship and leadership training for income generating activities. Land was secured ( for free) and fenced to serve the garden for women.

9. Brazil

Southeast and Northeast Brazil

Gender awareness, entrepreneurial empowerment, media empowerment for youth

Project: Youth for Empowerment Forum

Projects aims to integrate the Brazilian community of activists, social entrepreneurs and young leaders at regional and national summits to receive empowerment on social entrepreneurship and advocacy to develop and implement projects in their respective communities.

Two regional summits have been successfully implemented with a third summit being planned for December, 2013. Self-reflection and empowerment sessions for youth were conducted for participants to activate themselves, their friends and peers to react upon identified problems and change the reality of their communities. Youth are also connected to an online-driven platform of young activists committed to ending gender inequality in Brazil and beyond.

10. Australia 1

Canberra

Sexual violence and violence against women

Project: Women's Safety on Campus

The project came about in direct response to the University Student Association receiving increasing complaints of sexual harassment against female students. In 2010, after approaching Australia National University (ANU) administration to address this issue, the Women's Safety on Campus project was initiated and is sustained by students.

The project operates via a student working group and has three focuses: 1) working with the university administration to look at student grievance policies; 2) working with the residential colleges to ensure their staff and student leaders were adequately educated and trained; and 3) working on a student level to empower students to make their campus a safe place for all students.

11. Australia 2

Nation wide

Sensitization of legal system and services for immigrant and refugee women in rural communities re domestic violence and abuse situations

Project: New Immigrant and Refugee Women Sensitisation project

Statistics show that new immigrant and refugee women in Australia are particularly vulnerable to violence and abuse due to their lack of understanding of Australia's Legal System, language and cultural; other difficulties and barriers they face around settling into a new country, including housing and finances also make them vulnerable.

Through this project workshops and seminars were conducted for new immigrant and refugee women on the issue of violence against women and girls. Publications were produced in a number of languages which were distributed widely in communities to raise awareness and to provide knowledge of services and laws to protect victims of violence and abuse. The project and materials received wide media coverage and community acceptance. Sensitization workshops were also conducted in schools.

The project engaged over 297 workers and 93 women through presentations on the laws on domestic violence and options available to victims.

12. Guyana

Linden, Region 10

GBV, Gender inequality sensitization and training

Project: Man Up! Be a Champion of Change!

The aim of this project was to initiate a shift from negative cultural norms and inequitable gender attitudes towards women and girls to more positive gender equitable attitudes among boys in selected football clubs in the community of Linden.

Nine football clubs in Linden with a combined total of 144 young male club members (under 23 years old) took part in the project. Eighteen coaches and assistant coaches from the nine participating football clubs also took part in the project: they attended a three-day Gender-Based Violence (GBV) awareness workshop; facilitated and co-facilitated sessions with the 144 young male participants.

At the end of the project, positive attitudes towards gender equality increased by eight percent—increasing from 49% at the onset of sessions to 57% by the end of the last session. Corresponding, negative attitudes towards gender equality decreased by six percent—from 27% at the onset of sessions to 21% by the end of the last session.

13. Paraguay

Nation wide

GBV, abuse and violence against women and girls

Project: Graphic novel on violence against women




Graphic novel targeting youth to raise awareness and educate on issues of GBV, abuse and violence against women and girls