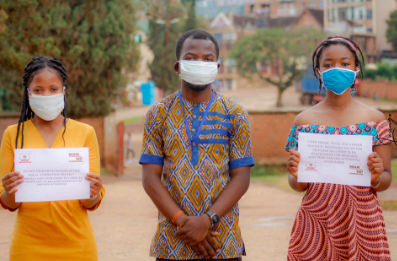 We want to honor our members and their efforts by bringing visibility and awareness to the different struggles, causes, task forces, and successes they have made around the world to cope holistically with this COVID-19 Crisis.
At a time as full of uncertainty in history as this, we decided to stand up for our vulnerable groups; considering women, children/girls, and LGBTQIA are the ones most at risk of experiencing the indirect adversities of the COVID-19 epidemic, the Shadow Pandemic and in general the world inequalities. As Man Up Campaign members we have to make sure their voices are being heard and their needs met. We are determined to take action to bring peace, hope, and awareness through the positive efforts made by our Man Up Campaign Task Force.
This world situation in which we find ourselves; the COVID-19 pandemic has brought changes in the lifestyle of many people, with the lockdown it has been dangerous to get out, that is why it is so important to recognize the efforts of those people, those heroes who in spite of putting their lives at risk, decide to overcome the protection of others. This is the case with the strength of the Man Up Campaign Task Force. Where we find different efforts, and actions, in different parts of the world that have brought well-being and hope to humanity. The following cases deal with small actions at an individual level as well as actions to mobilize efforts at a community and even a global level.
Women Role Models Lead COVID-19 Efforts in The Gambia
"When the WHO declared the COVID-19 as a pandemic, young people in The Gambia took the initiative to raise awareness on the pandemic and the safety precautions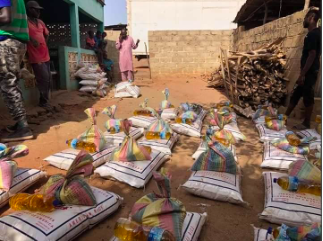 locally" our Gambian delegate Fattoumata Bah stated. Since February, Fatoumatta and her team started a Donation, Sanitization and Education Campaign where they managed to raise funds, purchase health and food supplies and distribute them to 200 families in The Gambia, created educational posters to spread awareness and critical information on the COVID19 and the health measures, donated & collaborated with the Red Cross, Police Stations, local markets as well as with the Bundung Maternal Health Hospital and support the health personnel in the frontline. Proving to be a community leader and women role model by creating vital collaborations for her country to thrive, as well as creating a great positive impact in different sectors she helped.
Pakistan Tackles Mental Health and Basic Needs
In Pakistan we have 2 support groups; "Quarantine Connections", focused on creating a community space to promote the mental health of young people during the lockdown and navigate the trauma of losing family members to the virus, led and co-created by our delegate Javita Indra and friends giving a more holistic approach to this health crisis. On the other hand the team of our delegate Abdul Waheed who in collaboration with "COPE NGO" was dedicated to the donation and distribution of food reaching 400 families, and another 100 more selected to receive vegetables (Sehri and Aftari) during Ramadan Kareem. He co-created an initiative awareness campaign which helped educate towards the COVID19 pandemic, and take on the sanitary measures like disinfecting the different areas of Karachi; from Mosques and schools to the streets of the city. We highly appreciate the efforts and results achieved by both of our delegates and their teams during this Pandemic that had brought so much comfort, hope, and prosperity to the different communities in Pakistan.
Actress in Spain Joins Solidarity Projects
Our dear colleague Patricia Morueco exemplary model of Man Up Campaign and GSMART (Gender Sports, Music, Arts, Reflection and technology) program in Spain: She shares with us how she has taken advantage of the quarantine to participate and join solidarity projects such as reading to the elderly, focusing her attention on the holistic healing of this group so vulnerable to the pandemic. This is something that as an Organization we applaud, thanks to helping to keep the world calm. Another thing that the talented actress mentions is that she has tried to stay strong for her loved ones.
We think it is important to explore the individual actions that can be taken to cope with and be resistant to this crisis, as well as how important it is to show empathy and help each other. She also took this opportunity to co-direct two short films that won awards with the aim of inviting reflection on human contradictions and to write two other short films with social themes. On the other hand, she collaborated on a platform to bring together artists from around the world on an international level and to bring education to the various interviews that took place. And last but not least, she has made financial contributions for health material.
Educational Campaigns in Uganda
In another part of the world; Uganda, we have the local efforts of our esteemed member James Byarugaba who through his Organization Youth Alive Uganda has supported education by responsibly using technological and media resources, conducting cultural-educational videos, distributing information and educational materials, radio campaigns to raise awareness about COVID-19, offering a learning space and networking on a grass-root level to reduce and prevent gender-based violence. On the other hand "Youth Alive Uganda also supported staff, peer educators, and health workers with PPEs including; masks, sanitizers, and gloves. Youth Alive Uganda supported the district COVID task forces with a cash contribution equivalent of 280 dollars per district to support the procurement of PPEs for health workers" ((Byaruqaba. J., 2020).
Not forget to mention the important collaboration on food &, sanitary support, donations, access, and delivery to sexual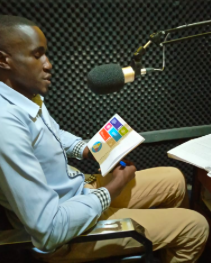 Using the radio for education on COVID-19.
reproductive health services including HIV ART, psycho-social support, Gender-Based Violence information, and counseling in homes and delivery of proper medicine in Bugiri District to teenage mothers and elderly. Sharing and caring for the elderly, and the teenage mothers during COVID-19 is a must for rebuilding our society. Our leader James Byarugaba has made sure that even with the lockdown affecting the transportation of patients to hospitals in critical situations the medicine and services are getting to the people in need.
Bringing Smiles in Afghanistan
In Afghanistan, as in many other countries, the COVID-19 is not only a health crisis but also an economic and social challenge of a dramatic extent. During this COVID-19 hard time, our delegate and youth leader Hizbullah Baryal started an initiative "Bring a Smile Campaign" through this campaign he was able to do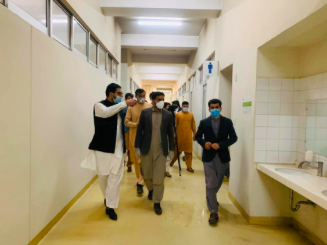 fundraising and scale it into reaching 23 families in extreme need, by providing them with food packages for more than a month. The volunteer group of our youth delegate assured that small financial support can bring a smile on the faces of very needed people in our society.
The local efforts in Afghanistan scaled into global level through social media, "We got contacted by afghans in the North America community to find them the most 100 vulnerable families, including widows, and orphans, we found them by conducting surveys in local communities and we distributed food packages successfully" our distinct delegate Hizbullah stated. Other important activities carried out by our team were the visit and support to the Afghan-Japan Governmental Hospital in Kabul, with the purpose of inspiring, motivating, and supporting the health personnel; doctors and nurses who are fighting in the front lines. As well as appreciating their work by giving them certificates. Another of the important tasks carried out by this wonderful team was the human approach to the different patients to reassure them they will recover soon from the virus, showing support, companionship, and help through the distribution vitamin c, seasonal fresh fruit juice along with hot soup to 300 people including doctors, nurses, patients, and waiters at the hospital. "Well the moral of all this is to continue volunteering and cheering into activities to educate communities, groups, and individuals, and take preventive measures against COVID-19" (Baryal, H, 2020).
Protection of Human Rights in The Democratic Republic of Congo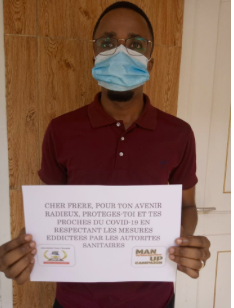 In the Democratic Republic of Congo, our delegate Mr. Jean-Luc has carried out a tireless task in the protection of human rights, with actions centralized in the fight against sexual and gender violence. He has achieved all this with the support of Youth for the Future Organization, JPA in the acronym. JPA concentrates its activities in communities made up of numerous victims, including young girls, in high school, and university education institutions in the South Kivu province. This Organization also thoroughly fights against HIV AIDS in the youth environment.
Thanks to these efforts, the education of many students has been achieved, especially those in the Eastern area of the country through the different forums among university students for the promotion of an egalitarian society. Education is such an important approach in the fight against COVID-19, HIV AIDS, Gender-Based Violence, and Domestic Violence which both Man Up Campaign and Youth For The Future Organization stand together in this journey.
This fight is gaining momentum in the province of South Kivu and the pupils and students of the city of Bukavu are beginning to appropriate it through posters carrying messages like; "Dear brother, for your future; protect yourself and your close ones from the COVID-19 by respecting the measures laid down by the sanitary authorities", and "To live your emancipation in this equal generation, protect yourself and your closest ones from COVID-19 by respecting the measures enacted by the sanitary authorities".
Inspired by the quote from Mahatma Gandhi, as per his ideology paired with tolerance and non-violence, young activists of the JPA do not miss words to articulate their struggle. ''Live as if you were to die tomorrow. Learn as if you were to live forever.'' This is the key phrase of the emblematic figure of M Gandhi that can be read on some of these banners. JPA members are continuing a series of sensitization on the barrier measures recommended by the health authorities in order to reduce the spread of COVID-19 since March 17, 2020, a week after its appearance in the DRC.
In this period when the cumulative number of cases is estimated to be greater than 2027 cases tested positive, with 321 cured and 63 deaths, the JPA organization has just reiterated its fight against this pandemic of Covid-19 which is ravaging the world population with harmful repercussions in all sectors of the world. It is important that we stand together at these hard times and keep on working at the local level to achieve grass-root changes and get help where it is needed. We greatly appreciate the relentless conscious work, the spreading of righteous information, and the use of every platform to educate towards the preventive, healthy, security measures towards the coronavirus pandemic.
Another of our colleagues; Patrick Mbya has ongoing efforts between NYC and the Democratic Republic of Congo, with the important collaboration of Congo Love, Telema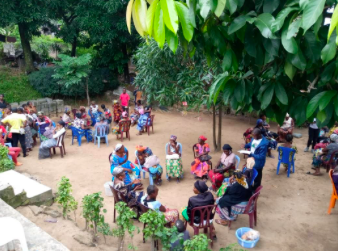 Youth Movement, and Centre Culturel Andrée Blouin to deliver credible information to the vulnerable population, and the activation of a community response towards COVID-19 from a PanAfrican approach in the DRC through the "Congo Coronavirus Awareness & Education Campaign", making possible a cultural change in Kinshasa, contributing to reduce the cases on COVID-19 and bring safe information to the population.
Motivating Women and Girls in Liberia
In Liberia we are bravely represented by Mercy, who, besides being an essential part of the Man Up Campaign´s team to end gender violence, is also a STEM master in the area of cyber-security and has a powerful Organization; TIDES in charge of empowering women and girls through technology. Involving women and girls through IT training, entrepreneurship, online education, fashion, STEM programs, and gender equality. Being responsible for creating employment opportunities, and providing access to education for many girls and women in Liberia, addressing the Sustainable Development Goals 4, 5, 8, 10 to begin with, empowering change at the grassroots level in Liberian society to reduce gender inequalities and violence, especially in this time of radical change where access to online education and resources are vital for societies to keep on advancing towards a better future as well as new job opportunities to not just reactivate economy but help people to fulfill their different life ´s dreams. TIDES has taken action by giving free extra classes and online courses, and of course by keeping motivating women and girls into seizing the access to these opportunities.
Man Up Brings Peace Talks to México
Our dear youth leader Michelle Macías has been working towards mental health, gender equality and peace culture education apoyada por la organizacion Little friends for Peace o como su acronimo dice LFFP cuya mision es To counter violence and contribute to a worldwide culture of peace by sharing skills to prevent, resolve, and transform conflict with individuals, families, teams, and communities. Bringing peace talks to Mexico and especially to one of its most conflictive areas; Celaya, Guanajuato. To work on the holistic development of young people and create an international change based on the culture of peace and human rights.
We Highly appreciate every single effort of all of our members that have worked exhaustively in mitigating the effects and indirect consequences of the COVID- 19 helping and giving a voice to the most vulnerable groups in our societies.
With this article, it is proven that we can all make the change we want to see, that we are all leaders in our communities, and that all actions regardless of scale have a great impact on our global society. These actions being taken by young leaders around the world have brought a new perspective to this chaotic event; hope and communion. By seeing the impact of each of these actions we hope that they will inspire compassion and a sense of community to continue to support the projects that are helping at the local level and make every voice heard.
We wish the best for each one of our members, that they continue being successful in their different missions, offering us to be the platform to potentiate and make visible their projects on an international scale will continue to monitor and follow up on the actions implemented by our task force
We recommend seizing this crisis as an opportunity to recognize the COVID-19 crisis as one that has affected holistically to our Global Society, please to keep on supporting the ongoing tireless efforts of our task forces around the globe, take a look at the different funding ways we have
Contributions from: Hizbullah from Afghanistán, Patricia from Spain, Mr. Jean-Luc from Congo, Abdul Waheed from Pakistán, Javita Indra from Pakistán, Fattoumata, Patrick Mbaya