Patrick Mbaya
UN YOUTH REPRESENTATIVE, LAW & POLICY COMMITTEE CHAIRMAN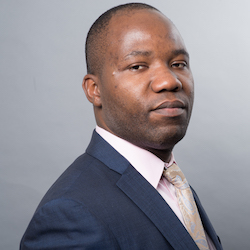 Patrick was born in the town of Lubumbashi in the Katanga province of the Democratic Republic of Congo. He studied law at the University of Lubumbashi Faculty of Law and obtained a Licence en Droit (Bachelor's degree) in economics and social law. After graduation, he worked as an attorney at Mbombo and Associates, a law firm based in Lubumbashi. He practiced different types of law and advocated for women who were survivors of sexual assault in the eastern part of the Congo. He collaborated with various NGOs, and an advocated for women who sexually abused by the Congolese army, rebels, and civilians.
In the U.S., Patrick obtained a masters degree (LL.M) at Fordham University School of Law in International Law and Justice in 2014, where he studied different types of law, such as human rights, immigration, and international law. He has worked and volunteered at Sojourner/ First Friends, a non-profit organization that helps immigrants detained in the detention center. He also interned at Guerrero Yee, LLP, an immigration law firm, acted as a mediator at the Equal Employment Opportunity Commission (EEOC) and worked at Musafir and Associates immigration and a business law firm. While working at these firms, he represented people in different types of immigration matters, such as Cancellation of Removal, immediate relatives, work visas, and adjustment of status, among others.

Additionally, he was employed at the interpretation and translation companies Geneva World Wide and Legal Language Institute. He is also a volunteer at African Services Committee, where he works as legal fellow and advocate for women who have been sexually abused, infected with HIV or AIDS and have been forced by their communities to have an excision or gender mutilation (FGM) and have come to the U.S. for asylum. He is also a member of the United Nations Working Group on Youth and Gender Equality. The 1st & 2nd Youth Forum of Conference on the Status of Women 61 and 62 he was on the drafting committee drafting the youth submission to the Final Conclusions document.