Michelle Ivonne Macías De Pozo
UN Youth Representative Latin America & The Caribbean, Summits Coordinator.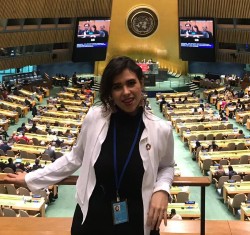 International relations specialist by profession and sustainable development activist by heart. Youth advocate for human rights, youth empowerment and gender equality. A community leader that has dedicated her life to be an agent of change in the co-creation of a better world through her participation and collaboration with several NGO´s since local to international level where she has developed many projects that have been of a great impact in her community and worldwide. She has made her life mission to build meaningful relations and meaningful projects to bring them together and make a major positive impact.
Expert in mobilizing and coordinating strategic partnerships to achieve the SDG´s (Sustainable Development Goals) by 2030, between Governments, Commercial Chambers, Institutions, Non-Governmental Organizations, and Civil Society representatives and Associations. Partnership developing and promotion of peace education through school programs STEM and UNM with UNESCO Center for Peace as a Special Project Manager. Worked in the co-creation of the Common Minimum Standards on gender equality. Developed a standardization of the SDG´s, the Common Minimum Standards and Human Rights in the ISO 9001:2015 to foster the commitment of the private sector in Mexico and Latin America on the global goals. Internal auditor, Data analyst, Corporate Social Responsibility Program Designer, Project assistant on Social Impact Measurement of social strategies.